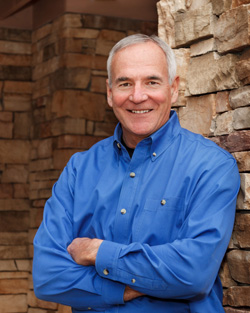 For over 42 years, Steve Dow has led the residential and commercial construction industry with integrity, quality, and straight-forward communication.
Based on a team effort concept, Steve works closely with design professionals, including top architects, craftsmen and suppliers to build homes that will provide the client with personal enjoyment and excellent investment value for years to come.
Steve credits his parents for his love of construction and the building industry. "My father coached me and raised me around construction sites while I was attending school. My mother taught me compassion, absolute integrity and to love others."
Steve was born in Omaha, Nebraska, and raised in Evergreen, Colorado. He started his building career in Aspen, Colorado, in 1973, building numerous custom homes and commercial projects in the town of Aspen and the Snowmass area. He moved to Denver and began growing his vast list of accomplishments in 1975 while attending the University of Colorado. Branching out as project development manager for a major Denver home builder, he oversaw the construction of hundreds of single family homes in four developments across the Denver metro area.
In 1987 Steve served as president of a Denver-based, national contracting and construction management firm, building projects throughout the United States and Canada. Steve led the company from $200,000 in revenue in 1987 to over $10,000,000 in revenue by 1994. In 1995, Steve founded his own building and development company, developing project areas of custom homes in a variety of styles and price ranges. Colorado Mountain, Craftsmen, Southwestern and Tuscan were predominant styles built.
Today, Peak Construction continues the same strong business model with Steve as the leading force. Steve enjoys working very closely with customers through the entire construction process. Due to Steve's strong work ethic and commitment to customer satisfaction, he has elevated Peak construction to become one of the most well respected construction companies in Denver.
Steve is a dedicated community servant who volunteered on several architectural review committees and a development committee for the betterment of several existing communities. For Steve, it boils down to the basics. "Treat everyone with understanding, respect and integrity, then go out and live a daily commitment to excellence in building." He prides himself on the fact that each project creates a bond with his clients and relationships that last a lifetime. "For me, it's not a job, it's a creative outlet. I love the connection with people and seeing our clients achieve the home of their dreams."