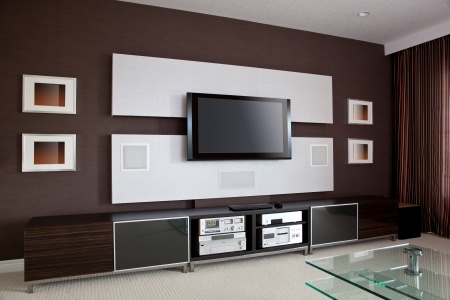 There are a few things to consider before building your home, such as what types of networks you'd like. With today's "smart homes," long gone are the days when all you had to worry about was putting in a telephone and cable TV jack in every room.
The modern home might have high definition TVs and distributed music throughout; automated lighting, draperies and HVAC systems; and, of course, wired or wireless Internet in every room.
Before the wallboard in your new home goes in, plan for your digital future. Here are some tips to help get you started:
Your Home Network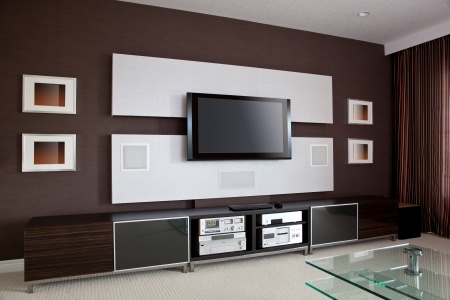 These days, you may want a robust wireless Wi-Fi connection in every room, plus your outdoor rec areas. That's not just because of the popularity of laptops versus desktop computers. A Wi-Fi network throughout your home will allow you to use apps on a smartphone or tablet that can turn them into a touchscreen remote for various electronics products or into a home automation controller that lets you adjust your thermostat or dim the porch lights from your easy chair.
But having Wi-Fi doesn't mean you can forgo prewiring for Ethernet cable. By strategically placing wired network connections throughout your home, you will ensure strong coverage away from the router (though Wi-Fi boosters are another option).
A wired connection is still the most desirable connection to avoid buffering and image quality issues while streaming video. So, even if your new TV has built-in Wi-Fi for Netflix, it's better to put a live Ethernet port nearby.
Home Entertainment
Are you installing a surround sound system with your TV? How about multi-room audio? The advent of personal digital music libraries and Internet radio services such as Pandora have combined with the emergence of touchscreen apps to make these systems engaging and enjoyable.
Typically, speaker cables need to be "home run" from the ceiling or in speakers located in the wall at locations around the house, back to a central area where the audio equipment is located. Another option is to go with a wireless digital audio system, which typically uses a wireless receiver with a built-in amplifier that can be placed in close proximity to the speakers.
Home Automation Systems
In the most sophisticated smart homes, you'll be able to access and control these subsystems through on-wall touchscreens, handheld controllers and apps, your televisions and through the Internet. Below are some examples of the most popular home automation systems for your home:
Lighting, HVAC and Security
Each of these is a topic in itself, but I'll cover each briefly. Lighting control is one of those luxuries most people don't think they need. Once they've experienced it, though, they wonder how they ever lived without it. Aside from creating different lighting scenes with the push of a button, these systems save electricity with their automated timers, dimmers, occupancy sensors, drapery controls and other features.
They also provide security with elaborate away-from-home lighting schemes or can be programmed to flash all the houselights when an alarm is triggered. Some systems are wireless and use radio-controlled dimmers at the switch boxes, while others require both specialized dimmers and additional cabling. Lutron is the best-known brand in this field, but other popular home automation systems (see below) also provide their own lighting options.
Smart thermostats that tie into automation systems or work independently (such as the Nest thermostat) are becoming more common and can also provide considerable energy savings with programmed timers and occupancy sensors. These typically use traditional cabling to the furnace and A/C unit, but the connection back to a system processor or control app may be either wired or wireless, so you'll need to plan accordingly in your prewire.
Alarm system installation should be left to the experts, though you may wish to plan for security cameras that can be accessed and pointed via apps, touchscreen controllers or a TV interface. Network cameras can be wired via Ethernet to the home network; wireless models also exist.
This article is to help you gain a general understanding of the many options you can plan for during your home's prewiring and to give you a sense of what you might want now or in the future. As you go through your planning, you'll need to research your equipment and system options and identify the location of everything in advance, so that you can get all the right wires in place.