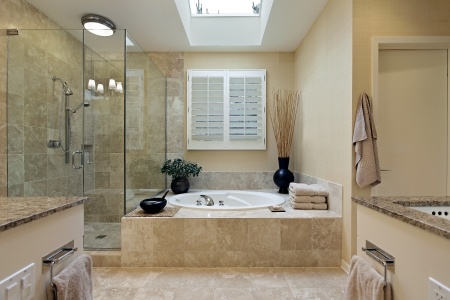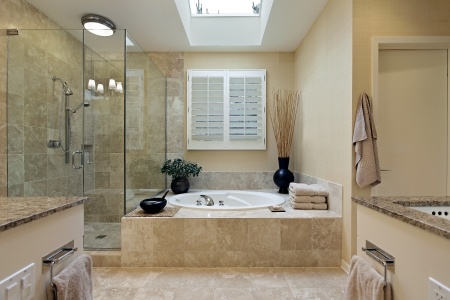 In this uncertain economic climate, homeowners are focusing on making their homes comfortable retreats where they can escape from the hectic pressures of day-to-day life. One of the current trends in bath remodeling is the spa bathroom, complete with heated floor and towel bars, saunas, and steam showers.  Homeowners are spending more time at home and thus, are spending money to make their homes more comfortable and relaxing. One avenue for such comfort is the conversion of the bathroom into an in-home retreat. Below are some other popular bath remodeling trends.
Bathroom Size – Many homeowners are expanding their bathrooms to accommodate features such as whirlpool tubs, steam rooms, separate showers, and bath furnishings such as armories for extra storage as well as chaise lounges for reading and relaxing in their bathrooms.  Arm chairs and vanities are also popular bath furniture pieces.  Often, exterior or interior walls are moved to allow for more functionality and to accommodate these features. Many homeowners are opting for a separate shower and bath.  According to the American Standard Bathroom Habits Survey, a majority of Americans choose a whirlpool as the number one item they want in their bath.
A unique trend in bath fixtures is an above counter sink which can function simultaneously as a sculptural piece as well as a sink.  Just a few such sink options are fused-glass basins in jewel tones, concrete basins, and copper basins.  There are many other artistic expressions available in above-counter sinks.
Homeowners and designers are experimenting with different materials in bath remodeling.  Recycled glass, wood, rocks as well as metal are found in today's bath.  Glass tiles are a popular trend which allows artistic expression through mosaic designs.  Another material trend emerging is the combination of stainless steel and natural stone features to create a contemporary look.  Metal accents can make a room feel a bit cold or sterile so the combination of a natural stone material can soften the feel through a contrasting texture and color.
Toss in a splash of color!  Bath remodeling is turning toward the strategic use of color.  Although white continues to be the most popular color in the bath, homeowners and bath designers are integrating other colors that still allow to bath to remain timeless rather than dated. When introducing color in your bath remodeling, choose a color that suits your style as well as your environment. Consider bringing a color from nature if you have view window. Natural colors remain the most versatile but bolder colors such as oranges, reds, bright blues, and deep greens are gaining popularity.