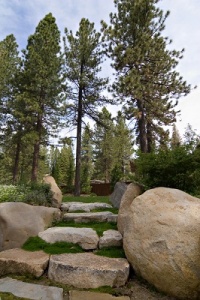 There's a relationship between your home and your landscape—the house exists in reference to its surroundings. Ideally the scale of your new home and its landscape will mesh well initially and over time—one will not dwarf the other. Other considerations as you think about a longer-term landscape plan for your new home are style, function and longevity.
The very best house-landscape relationships are thought through before either is designed and built. We encourage developing plans for your house and landscape together, so that the designs for each work well together. As you get started with your landscaping plan, here are some basics to consider.
Save the trees
Are there mature trees or bushes already on the property? If so, retain them wherever possible, as they add character to the design and establish a significant sense of place.
If your lot does not offer mature trees, all is not lost. There are landscape nurseries that specialize in mature plants. While these plants come with a hefty price tag, two or three well-placed choices will transform your lot, making not just the landscape but the home look and feel more established.
Select a plant palette
If you're going to be working with a landscaper, go into that dialogue with some knowledge under your belt. Be armed with plants you want to have, otherwise you might end up with run-of-the-mill plants that everyone has, or worse yet, plants that are not indigenous. Growing plants that are native means that you won't have to work as hard to keep them alive, because they have evolved to thrive in Colorado's environment without special treatment.
And by using native plants, you won't have to worry that you've planted their opposite, invasive plants that will take over and squeeze the life out of your other plants with the demands they place on the soil and their constant search for water. Another bonus? Native plants actually look better, because they naturally blend with the surrounding area.
The best resource for plant information is your local cooperative extension office. Here is a link that lists an office for each county web site. http://extension.colostate.edu/staff-directory/?cn-s=&cn-cat=113
As a service to the public and agriculture businesses, these education centers are staffed with plant experts who are happy to help you choose the plants that are best in your area, teach you how to plant and grow them, and give you advice if you have any trouble with pests, irrigation or plant diseases.
Another great way to choose plants is to drive around your area looking at what other people have planted. Take pictures of the plants you like most, and if you don't know what they're named, an extension agent or nursery worker can help you identify them. Once you have your list of "must-haves," you'll feel more prepared to meet with a landscaper.
Consider your use of space
You know what plants you want, but how should they be arranged? What kind of outdoor spaces will define your landscape? Talk with your partner and/or family about how each of you wants to use the landscape. The checklist below will help facilitate those conversations:
⦁ Are there certain activities you do outside, like dining, entertaining or swimming? These activities will determine whether you should allocate space for a table, pool, spa or patio.
⦁ New trends are on the rise: outdoor bathing, movie viewing and even sleeping under the stars. Research trends in outdoor living to see if there's an idea out there that you want to incorporate into your lifestyle.
⦁ Are you an accomplished home chef? A fully outfitted outdoor kitchen could be in your near future. Have you always wanted a vegetable garden? You're planning a brand-new landscape, so now is the time. The pleasures of home-grown edibles are endless, fueling your passion for cooking, and supporting your quest for good health.
⦁ Are there certain views you want to take advantage of? Walk around your lot and see if there is a focal point in the distance (or even close by) that you want to frame with your new landscape.
Meet with a landscaper
You've done a lot of legwork to prepare for your new relationship with a landscape pro. During your initial meetings, you'll look at their portfolio, show them the plant lists and other notes and ideas you've already collected.
Often, your architect can work with you on a landscape plan. One of the best resources for finding the right landscaper is: http://www.alcc.com/find-a-landscape-pro
These landscape pros adhere to standards of conduct and professionalism.
Having taken the steps above, you'll be off to a good start designing a landscape to surround your new home that's as appealing and as thoughtful as the interior spaces of your new home.
DYI Landscaping Thoughts
A successful home landscape design is certainly attainable for do-it-yourselfers, but you need to be aware of some pitfalls if you are to achieve maximum satisfaction. On the next page are a few mistakes that negatively impact your enjoyment of your yard.
Piecemeal Planting: Failure to Have a Plan
Many home landscape designs evolve helter-skelter. A plant is planted somewhere in the yard simply because there is room for it there at the time. It's best to start from scratch, draw a plan for the whole yard, and stick to it. Short of that, try at least to sketch a rough plan for one large area of your yard, and put all your energy into implementing that plan this year.
Insufficient Fall Color in Your Yard
Spring and summer receive most of our attention when it comes to planting. Unfortunately, it's easy to forget to plant for fall. Yet the fall season holds enormous promise for those landscaping enthusiasts willing to plan for it. Don't allow your home landscape design to miss out on the colors offered September, October and November. Your local nursery can advise trees and shrubs and small plantings to take advantage of autumn's bounty.
Lack of Winter Interest in Your Home Landscape Design
If the fall season is often neglected in home landscape design, matters stand twice as bad with the winter season. Yet, it is in wintertime that we most need landscape decor that will bring us cheer. Your local nursery can advise trees and shrubs for winter interest.
Failure to Irrigate
Many of us face a dilemma: we enjoy having plants in our yards, but we also like to travel during the summer. So how do the plants get watered while we're gone? Sometimes a friend or relative can come to the rescue, but why chance it? There's a lot tied up in your home landscape design, both in terms of money and sentimental value. But don't ditch your travel plans. Just install an automatic irrigation system in your landscape design.
Planting on a Hillside Prone to Erosion
Do you have a steep slope on your lot? Is it tough to retain your topsoil there during a heavy rain? Have you tried growing your favorite plants on a slope with no avail? The problem is that you failed to fix your erosion problem prior to planting. Build a retaining wall first, then do your planting afterwards.
Failure to Incorporate Deer-Resistant Plants in Your Home Landscape Design
You may think you've arrived at the ideal home landscape design. You meticulously drew up a plan and stuck to it. The soil is fertile, you've installed automatic irrigation, you've followed directions faithfully in planting your specimens, and you've applied a generous layer of mulch around them. But you come out of the house one day — and find your plants in shreds! What happened? You forgot one thing: Colorado's deer can make a snack of your plants. Talk to your extension office in your region or county. http://www.ext.colostate.edu/cedirectory/
Forgetting Functionality in Home Landscape Design
When one thinks about home landscape design, it is aesthetic considerations that immediately come to mind. Functionality, however, takes precedence over aesthetics. There is no reason you shouldn't be able to have both; but when push comes to shove, one needs to be more concerned that a home landscape design is safe, convenient and usable.