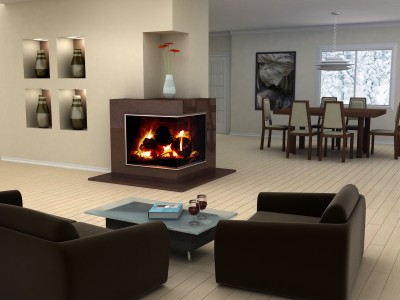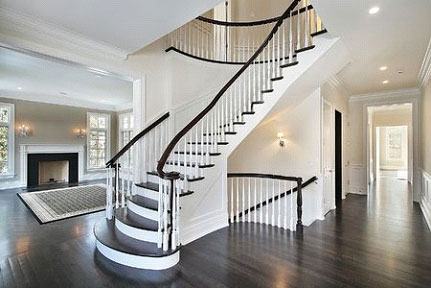 Choosing neutral paint colors in and out of your new home will ensure you're truly happy with it. Our painters use Benjamin Moore Paints. This site will assist you with color: https://www.benjaminmoore.com/en-us/color-overview
Exterior
The idea is that it all blends together, a scheme that has a certain siding color or stucco color that matches the trim that matches the roof and the stone.
Take into account the "non-changeable", or not easily changeable, items on the exterior such as the roof tile and driveway pavers. Take a close look at these materials and pull colors from them to create a cohesive color palette. For example: if your roof has orange, red and brown in it, then lean toward a warm color on your home in the beiges and browns. Take a look around at the neighbors' homes. Try to compliment, not duplicate or clash, with the neighbors around you.
Most developments' homeowner's associations require approval of exterior finishes and colors, which must be done during the design phase. Peak Construction compiles the required color board for submission to the HOA.
Drive around neighborhoods to get an idea of what color schemes you prefer. Take notes. Do you like the trim to be lighter or darker than the siding? Do you prefer a lighter house color or a darker one?
Once you find a range of colors that you like, get some samples of them. Our Painters will assist you with this. Since your home will be in natural light, take the samples outside at different times of the day. This will give you more of a true view of what your color choices will look like. Consider highlighting interesting details with a complementary color to the siding color. This will show off the uniqueness of your custom home and its features. These general guidelines are a great starting point to help you pick the perfect color for your home.
Interior
Make sure to consider the items that already exist in your home. It's highly likely that you already have a few items that you're planning to put into the room you'd like to paint. When choosing a color keep these items in mind. Look at the colors of rugs, pictures, upholstery, and statement items, and when you're choosing your paint, try to choose a color that flows with these items. Consider the Whole. It's important to consider how each room of your house flows into the next, especially if you have a home with an open floor plan. In open floor plans, carefully selected accent walls are your best option.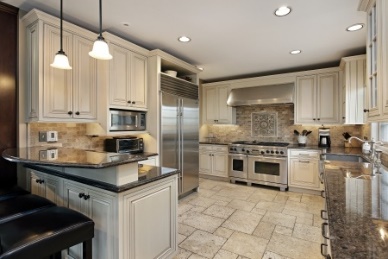 This link has a good article on color palettes: http://www.forbes.com/sites/houzz/2013/07/29/how-to-pick-a-color-palette-for-your-whole-house/#3d3b55a55e6a
Lighting
The same color can look very different under different types of lighting. When choosing your paint color you need to consider the type of light that is already in the room, and the type of lighting you're going to be adding to the room.
Prepare for making Selections with ideas and examples of things you like. Keep a folder with magazine clippings, pictures and articles that show your style and finishes for your home. We see many of our owners using Pinterest (a social media site that is a virtual bulletin board) where you can gather tons of inspiration for your home and "pin" these images to a "board" for your new home. It's easy to access on your smart phone or tablet and will be handy.
http://www.houzz.com is another site to browse for color ideas.
Selections
In addition to paint colors, there are several items inside the home that you will be choosing like cabinets, lighting and flooring.
At no cost to you, you will have an opportunity to work with professional showroom decorators on your flooring, cabinetry and lighting. They will help you to pull your Selections together and can also suggest paint colors to coordinate.
Many clients prefer to make all Selections themselves. In order to save you money, Peak Construction doesn't include the cost of a Design Coordinator in your budget. If you feel you need one person to help you decide or pull together your choices, we can recommend a Design Coordinator.